REPAIR & PROTECT THE HAIR
During & After Chemical Treatments
ArmorPlex is a complex of organic compounds specifically formulated to help protect and repair hair during bleaching, coloring
and other types of chemical hair treatments without requiring additional steps or changing the way you perform the treatment.
This is one of the most revolutionary products since the introduction of permanent hair coloring and bleaching. ArmorPlex
allows for a seamless and safe way for performing hair color treatments while protecting hair from harsh chemicals like
ammonia and peroxide.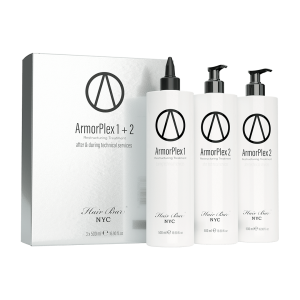 RESTORED ELASTICITY
SMOOTHER TEXTURE
NATURAL SHINE
INCREASED VOLUME
WEIGHTLESS SOFTNESS
LASTS UP TO 5 WEEKS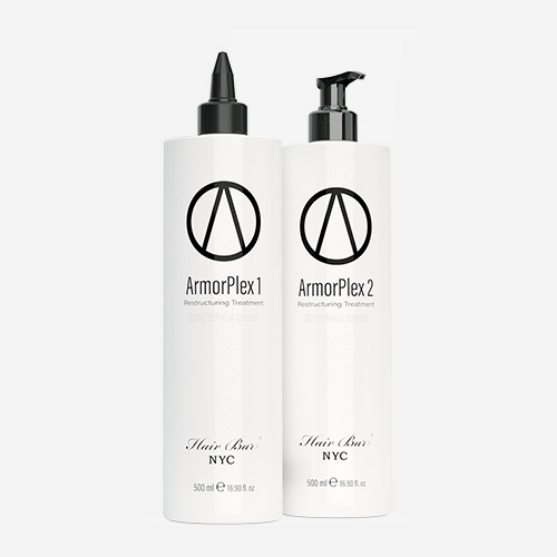 Simple, Safe and Revolutionary
ArmorPlex does not change the way you work and
not add any steps to the standard color and
bleaching process. It multiplies the keratin bonds
and improves and reinforces the Sulphur bridges
damaged during previous treatments.
Main Ingredients: Organic acids (e.g. Lactic Acid),
amino-acids (e.g. proline) and their derivates and
special eco-certified zinc salts (Zinc PCA).
Two Steps: Amazing Results
Two simple steps ArmorPlex No. 1 restores the
keratin before, during and after aggressive
chemical treatments and can be used as the ideal
tool for obtaining fantastic results in any situation.
The hair regains health amazingly in terms of
resistance to breakage and reduction of brittleness
(especially on "porous" hair, damaged or
weakened by the standard chemical treatments).
ArmorPlex No. 2 works in synergy with No. 1 and
has been developed to complete and conclude the
ArmorPlex treatment. No. 2 is necessary with all
services, to maximize performance and guarantee
an excellent result. It is a concentrate of organic
substances which restore the health of the hair's
keratin fibers. It restores a healthy, strong look to
hair damaged by aggressive chemical treatments
thanks to its amazing restructuring action.