TECHNICAL EXCELLENCE COLOR
Introducing our newest Color Line for Professionals
The G&C Hair Color is an exclusive line of professional permanent oxidation coloring products. The revolutionary M.A.B. system lightens, deposits
pigments, and reflects light in a single treatment, giving hair intense and bright color that won't fade over time. The G&C Hair Color formula
combines a dual base of both gel and cream, allowing for flawless coverage while protecting the hair from drying out or being weighed down.
The formula contains low levels of ammonia and many natural ingredients such as beeswax, coconut oil and marula oil. This unique formula
penetrates deep into the hair shaft, but respects the natural structure and integrity of each strand of hair, creating spectacular colors while
promoting hair health.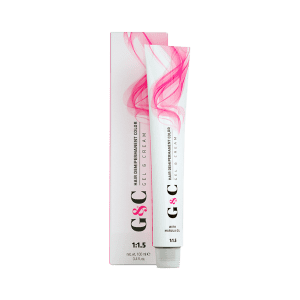 122 SHADES
M.A.B TECHNOLOGY
100% COVERAGE
GEL & CREAM FORMULA
MAXIMUM REFLECTION & SHINE
BRIGHTER & INTENSE COLOR
The Unique Feature of G&C Hair Color
The exclusive M.A.B. system is what differentiates this product from others on the market. The innovative M.A.B. system enables the product to
lighten and deposit pigment simultaneously. The system consists of the following features: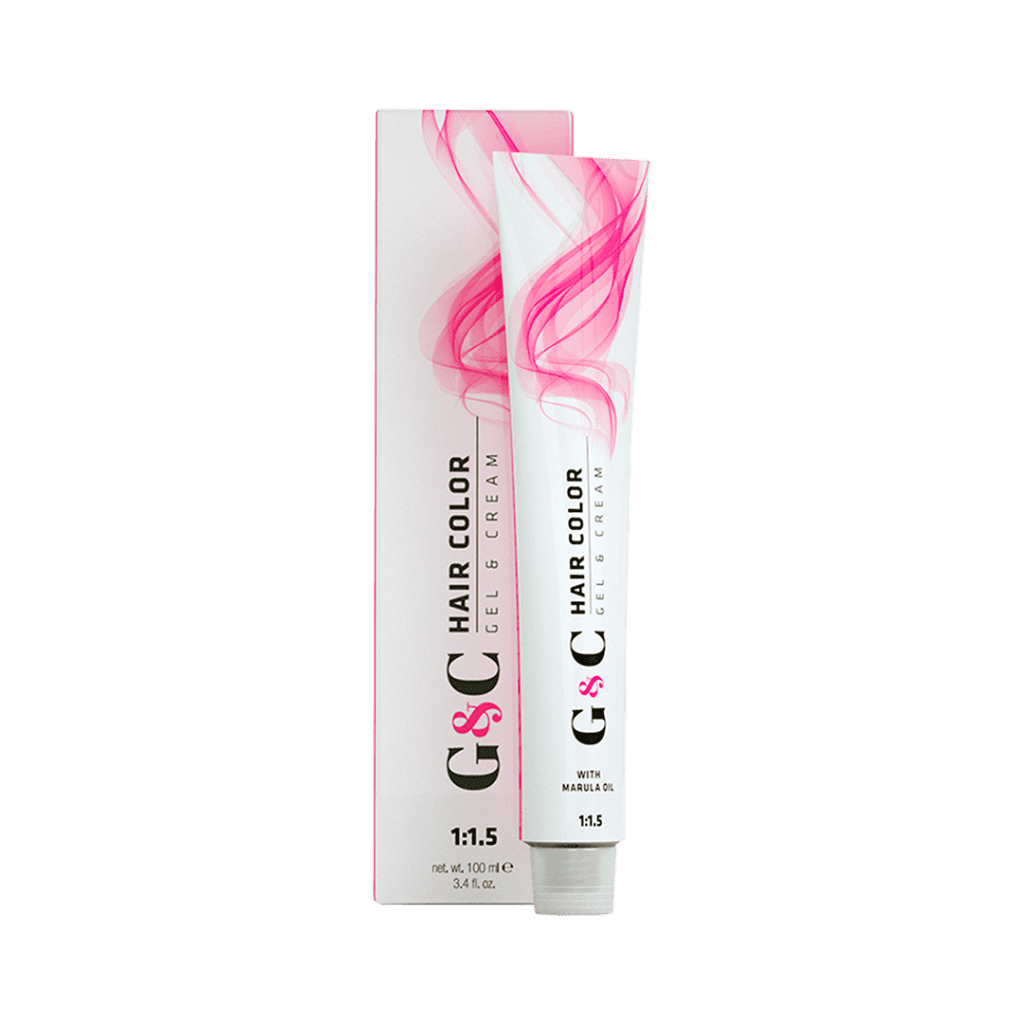 MONOETHANOLAMINE
This compound stabilizes the pH level of the
hair throughout the application process.
Balancing the pH level is vital in producing
ideal results from a color process. Too much
acidity causes the hair to be oily and for the
hair shaft to close, making it difficult for color
to effectively deposit. Too much alkaline
causes the hair to become very dry because
the hair shaft becomes very open. A balanced
pH level allows for the hair shaft to be open
just enough to effectively deposit the color
without drying out the hair.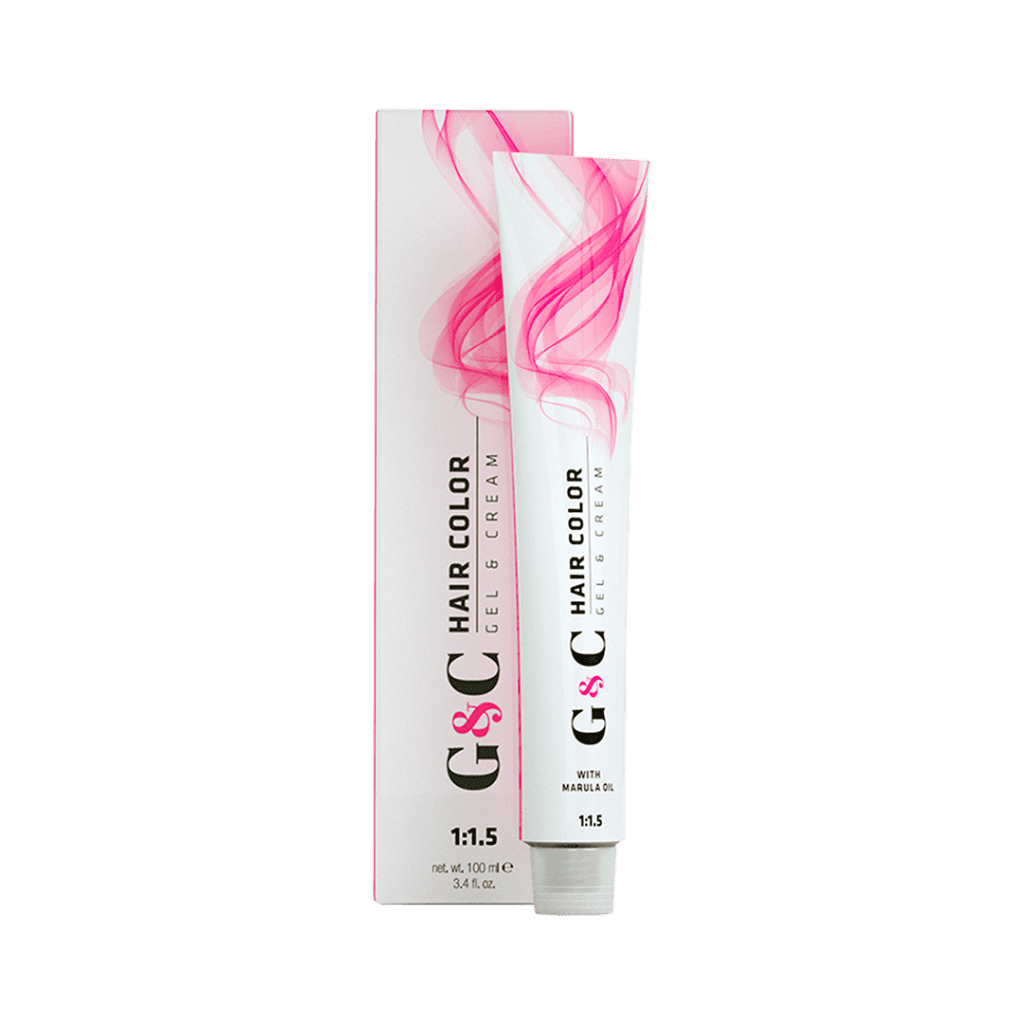 AMMONIA
Minimal levels (1.8% – 3.5%) of this essential
hair color ingredient slightly increases the
alkalinity of the formula, ensuring that the hair
shaft is sufficiently open to allow the color to
fully deposit. The minimal levels are not
enough to dry out the hair, unlike traditional
hair colors that contain higher levels of
ammonia.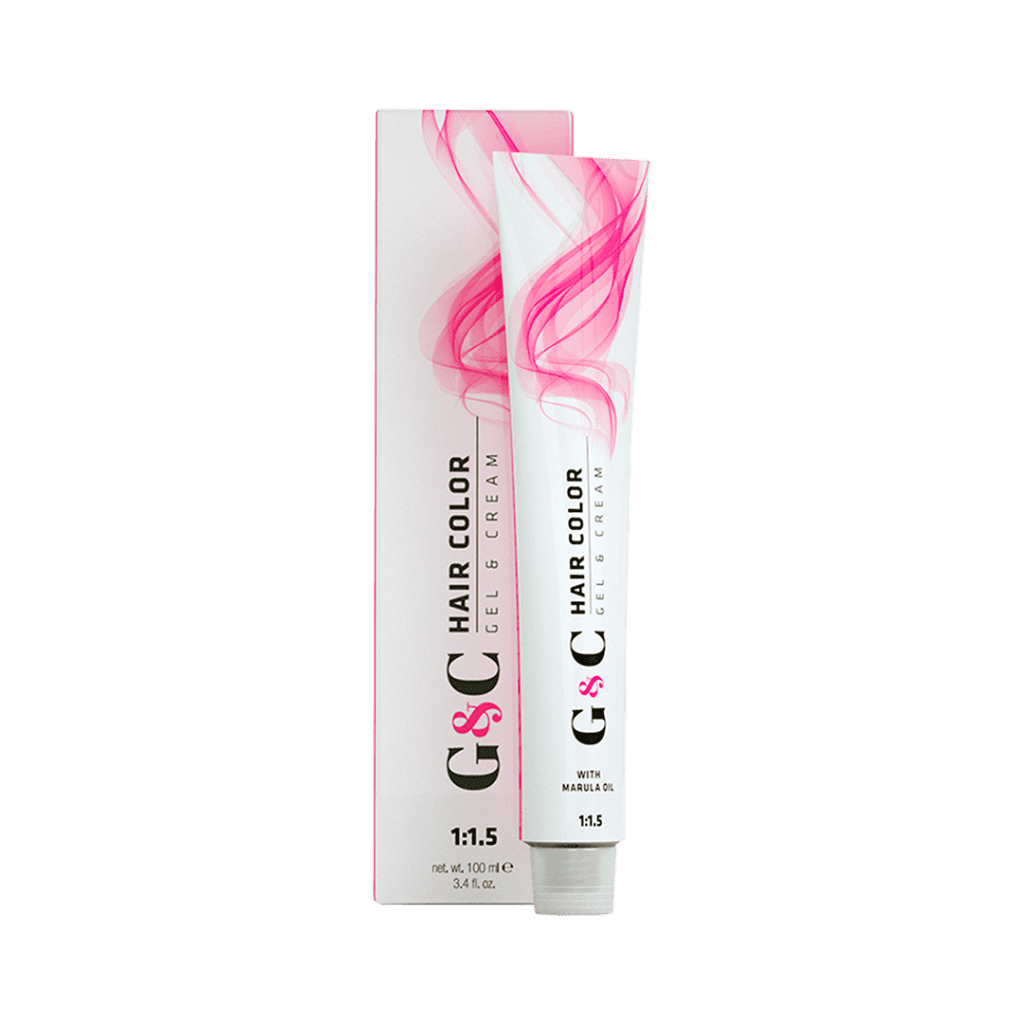 BASE
Having a base that is both gel and cream
creates maximum color coverage while
enhancing the luster of pigment. The cream
base keeps hair hydrated and ensures
maximum conditioning and smoothness as a
result from the color process. The gel base
reflects light, creating stunning shine and
allowing the pigments to stand out in brilliant,
eye-catching colors. The gel is also very
lightweight, allowing the hair to retain bounce
and volume after the color process.
HOW TO USE
RESISTANTL EVELS
1 - 10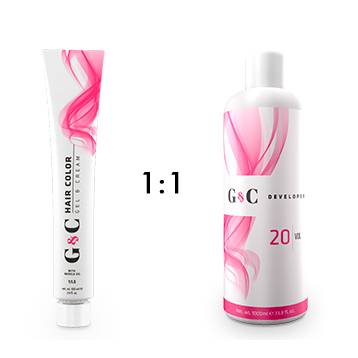 Mixing ratio can be used for particularly
resistant hair.
STANDARD LEVELS
1 - 10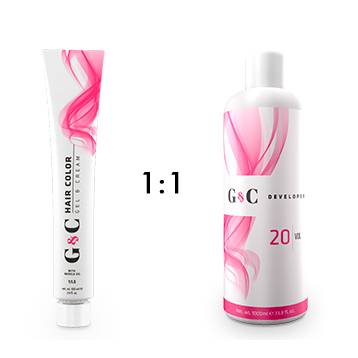 Dilution ration with G&C Hair Color
Developer
HIGHLIFTS
11 - 12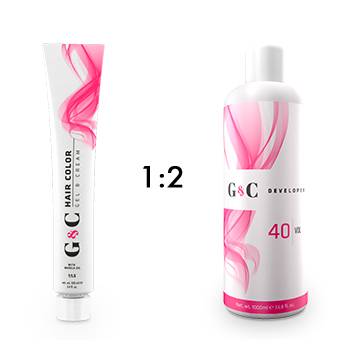 Increase the dilution to compensate for
higher volume
MIXING RATIO CHART
1 Part
1.5 Parts G&C
1 Part
1.5 Parts G&C
COLOR
PROCESSING
CREAM
COLOR
PROCESSING
CREAM
15ml
23ml
60ml
90ml
20ml
45ml
75ml
113ml
45ml
68ml
90ml
135ml
COLOR PROCESSING
| | USES |
| --- | --- |
| SEMI PERMANENT | FOR TONING |
| PERMANENT | FOR DEPOSIT |
| | 1-2 LEVELS OF DEPOSIT OR LIFT |
| | 3-4 LEVELS OF DEPOSIT OR LIFT |
| HIGHLIFTS | MORE THAN 4 LEVELS OF LIFT |
| G&C CREAM DEVELOPER | TIMING |
| --- | --- |
| 5 Volume (1%) | 10 Minutes |
| 7 Volume (2%) | 15 Minutes |
| 10 Volume (3%) | 15 Minutes |
| 20 Volume (6%) | 35 Minutes |
| 30 Volume (9%) | 40 Minutes |
| 40 Volume (12%) | 45 - 55 Minutes |
Receive a
FREE

G&C
Color Chart with
your order

All new orders will receive a complementary G&C Hair
Color Chart. This chart covers the essential basics, such as
mixing ratios and processing times, but also includes a
unique section on selecting a customized hair color for
each individual client. You will learn how to match the
perfect hair color according to your client's skin tone, skin
complexion, and eye color!